So many large families out there, so few options to stay at, unless of course you want to pay for 2 rooms with no kitchen and sitting area or outside area. This article complies some of our favorite properties, all of which offer accommodation in large apartments, mesonettes, villas and houses, fully equipped and with amazing living rooms!
Islands
Brand new Lithari Villas are located on a hillside on picture-perfect Paxos island, overlooking the sea. All villas offer a comfortable stay for families in spacious villas with outside areas, garden and swimming pool. The all feature a living area, fully equipped kitchen and 2 bedrooms, apart from Villa Eleni which has 3 separate bedrooms and can host up to 7 people in its 178 square meters! Perched on an olive grove with panoramic views, Villa Eleni is a stone-built charming residence dating back to the 1860, when the British Governor used it as his summer stay, making your family stay rich in history.
The Peloponnese
Right on the beach, minutes from Kalamata International Airport, with a swimming pool and amazing sunset views, Cape Kitries has 2 apartments with 2 separate bedrooms, 1 apartment with 1 seperate bedroom, while a really large familie can rent the whole property, for extra privacy and space. All apartments are fully equipped and baby/kid equipment is also provided upon request. The deck by the pool is perfect for dinner, while every apartment has its own veranda or patio, as well.
The villas are located in Methoni, just minutes from the beach and the castle, as well as other amazing sandy beaches. The estate is close to Kalamata International Airport, nestled on a hill side with amazing sea views. The oilve grove that surrounds the villas offers shadow, while a yoga deck with offer some me-time to the adults. The estate also has a swimming pool and pool bar for snacks throughout the day. Each villa can host 4-5 adults, therefore a family with 2 babies and 2 kids has plenty of space. The 3 villas we recommend have 2 separate bedrooms, sitting area, dining area, fully equipped kitchen, their own patio and direct access to the garden and the pool. The villa we stayed at also had 2 bathrooms, one in each bedroom.
There's a villa within Chamaloni farm ideal for 6 people. The villa is 69 sm, with a large balcony offering direct access to the garden and panoramic sea views. The estate is safe and with so many toys, a playground, books and kids bikes that no one ever gets bored out here. Not in there either though. Alisahni villa has a fully equipped kitchen with large dining table, a living area with sofa bed, as well as two seperate bedrooms, one of which even has a loft!
5 eco-houses 60 sm each in a vast olive grove in Laconia, with garden toys, farm and a lovey restaurant where farm to table breakfast and dinner is served every day, all included of course. We loved the farm tour and the extra virgin olive oil tasting, the kids loved how safe it was to run around the whole estate and be close to nature. The property is almost exclusively sustainable and is built and operates with respect to the environment. At the same time, the elegant eco houses have a fully equipped kitchen, 1 separate bedroom with a double bed, space for extra mattresses and travel cot, a living area with two sofa-beds, energy efficient wood fireplaces (it operates 12 months a year), so it's perfect for large families! Each house also has its own front yard with dining area and direct access to the grove and the farm.
Pandora Hotel in Charia village, Mani offers luxury accommodation in fully equipped apartments and maisonettes, some on the groundfloor with direct access to the garden and the playground, some offering great sea views from their large verandas. All apartments are ideal for 4-6 people. Of course travel cots are provided free of charge and upon request, breakfast is amazing and included, so Pandora Mani really takes care of families. The stunning apartments also have fireplaces and are open all year long. The apartments we recommend in Family Hotels Greece have 1-2 separate bedrooms, sitting area with sofa beds – three of them are actually ideal for a family of 6!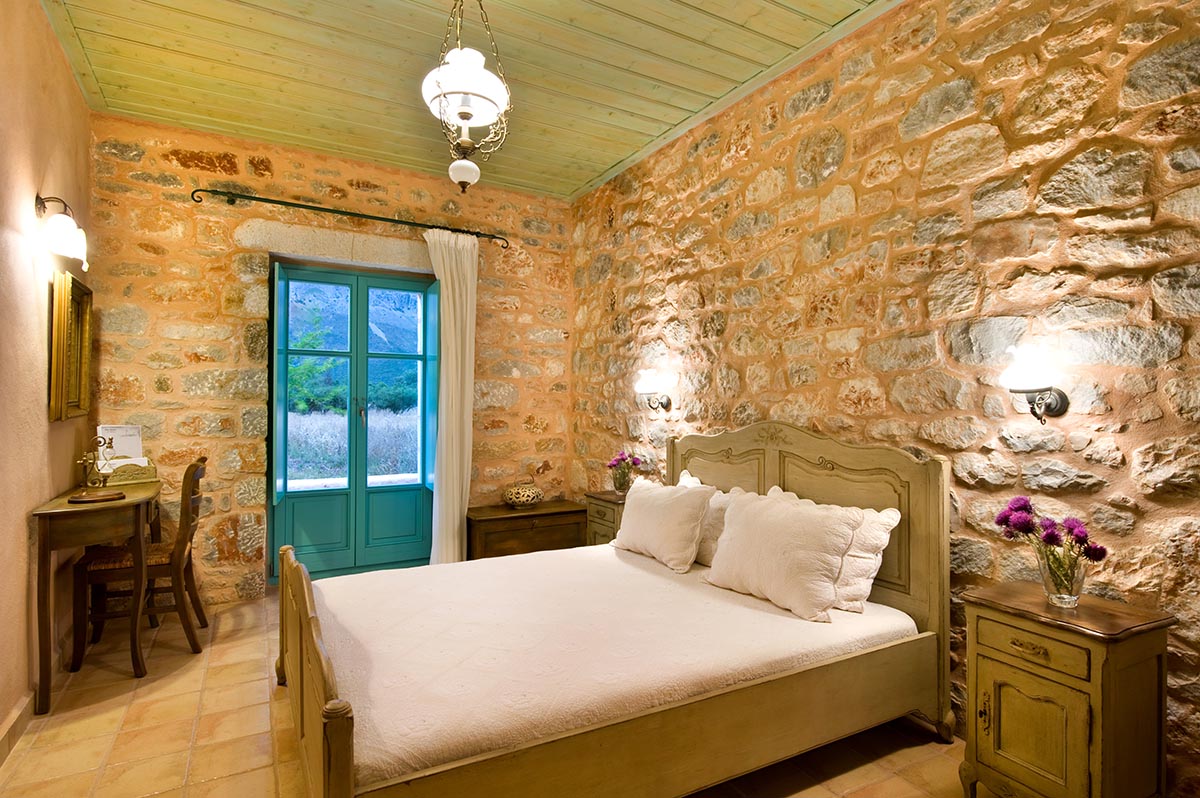 Just 1 hour from Athens, Daphne's Club Hotel Apartments is a favorite among parents. We've stayed twice, once with toddlers and once with preschoolers and both times we loved the safety, the abundance of things to do inside and in the garden, the bicycles and the half board menu, as well as the location, so close to so many amazing sites. But what we love more is the fully equipped kitchen, the comfortable veranda, the separate bedroom, the sitting area with two sofa beds. For larger families or if you're traveling with the grandparents or nanny, there are apartments with 2 separate bedrooms, apart of course the comfortable living room!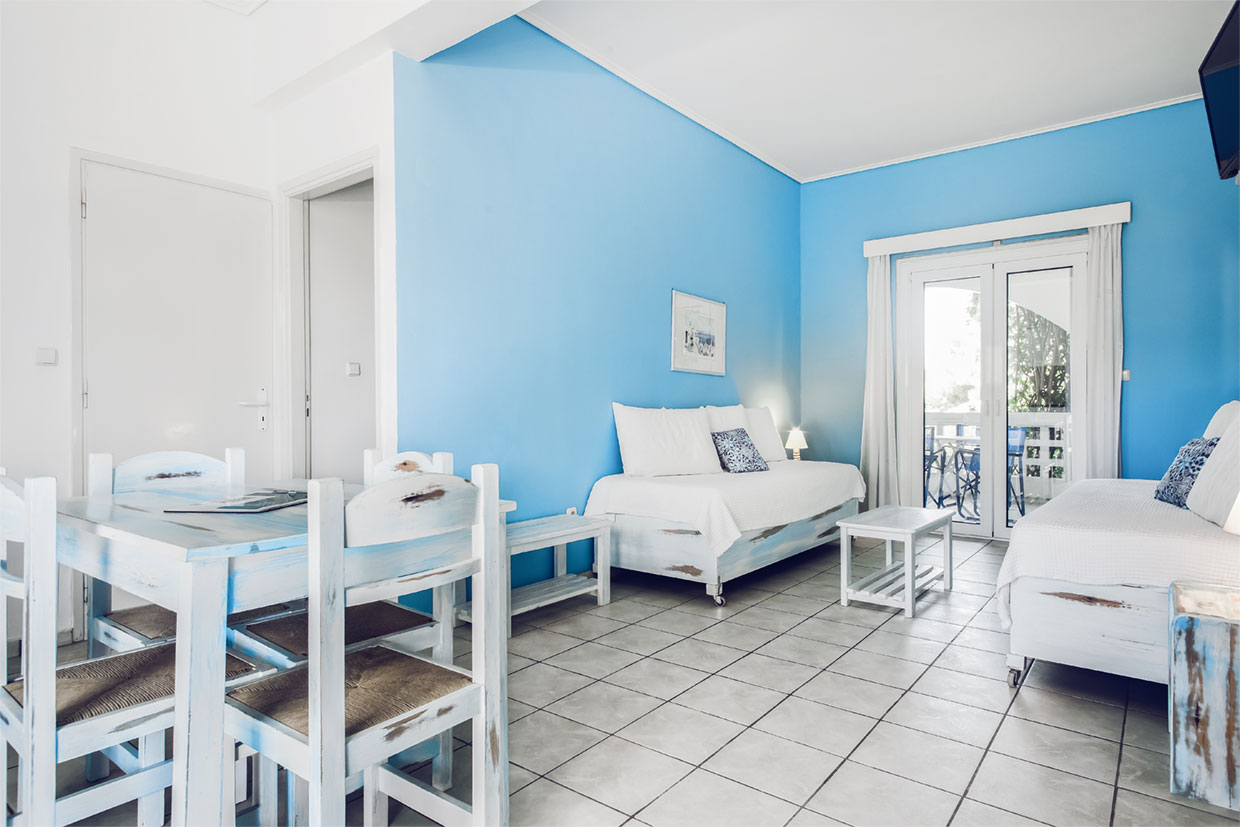 Evritania
Ninemia Stay & Play is located in Karpenissi, around 4 hours from Athens and it's a favorite among parents as well. It is in a vast estate by the river, adjacent to its own Theme Park and farm. There's also a playground, play area in the restaurant, play corners in every guesthouse, sip line, ponies to ride and train rides for the kids every morning… There's also a maisonette ideal for… 8 people! While all houses are ideal for 4, without counting travel cots of course. There also all feature a fully equipped kitchen, dining area and sitting area, both inside and outside.