Having stayed in over 35 hotels with babies/kids, we've come to realize 1. that time in the hotel room is mandatory and 2. that when they get older, this time is not for grown-ups to rest or nap. Kids need to be entertained, they need to not wreck the place and they crave some quality, quiet, easy time with their parents. Usually, the time we get back to the hotel is at noon (to keep away from the summer sun, to stay dry on a winter trip) and in the evening, before bed time and usually with the sun still up. These are also the times that the hotel's playground maybe off limits because of said sun or rain and because it's nap/bed time for some. So, we're left with one choice: stay in our room. With the kids. Who are tired, but won't nap if their lives depended on it.
How to make this time as hygge as possible
First, we need to realize that this time is not for us to rest, as the kids might destroy something or hurt themselves if unattended. Then we need to accept that this is a family time as well, time to enjoy each other's company, in a private, quiet environment, away from all the sightseeing, restaurants, piazzas etc.
It's important to do things together, rather than telling kids what to do and expecting them to do it (they won't do it). The following activities are meant for the whole family, for some quality time together, otherwise the kids will lose interest quite fast and we're back to square one.
Going through the pictures we took that day
Isn't this lovely? It's a great way to help little kids' memory to imprint the traveling experience and all the images that went through their eyes the past few hours. The more pictures we took, the more things we've seen, the more this activity takes each day.
You can do this laying on the double bed, on the kid's bed or a sofa if any. Or in the patio, while enjoying a cup of coffee/juice.
We loved doing it on the swinging sofa of our veranda at Daphne's Club Hotel Apartments:
Watching kids' movies together
You can bring your laptop or connect your netflix to your room's TV.
It's important to not leave the kids in front of a screen – unless of course you have to work, but that's not the scope of this article. So better bring movies the kids will like as much as you. Make this time quality family time. But don't make a habit out of it, or else the kids might connect traveling with watching movies. You could do with one movie per 5 days.
You can watch movies together on the double bed or in the sitting area if any. Make sure you have some snacks, from fresh fruits at noon to pop corn in the evening. You can watch movies even on a summer trip, you don't have to limit this to a "cozy night in". As long as you turn it into a unique family time together. We made this happen at our living room at Ninemia Stay & Play, the two sofas helped!
Playing board games together
This is something you can also do every day, maybe right after going through the day's pictures, or do this at noon and the pictures before bed time. Bring along 1-2 board games that you enjoy playing back home or try some new ones from the hotel's play room. At Kipi Suites, our boys found plenty that were for older kids or adults, but made rules of their own and we had a great ime.
Gileri eco & design residences in Arcadia was practically created for cozy family days inside. Its fireplaces or stoves, inviting living areas and abundance of toys for all ages can make sure of that.
Reading books together
It could be a night time story you read to them religiously while on the road; It could be a ritual you every day at noon: each member of the family reads a book for 20 minutes, separately but in the same room (preferrably next to the fireplace) or in the patio, together. You can bring your own books, or pick different ones from the hotel's library; Daphne's Club Hotel Apartments and Rivari Hotel Santorini both have kids books in their libraries in several languages.
Playing treasure hunt
Just take one of their toys, hide it and have your spouse and your kids look for it! If it's Easter, time to hide the Easter Bunny; If it's Christmas, hide an ornament.
Not ideal for an evening activity though, as you need it to be bright AND you need the kids to not get exctited before bedtime!
This game can be played ideally in an apartment or out in the yard, for example at the 2 rooms apartments of Cape Kitries, in the large houses of Ninemia Stay & Play, in the stone built patios of Historic Arapakis Castle (where we played it) and we can't wait to enjoy it in our private garden at Lithari Villas.
Having cocktails/ice-cream nights in
You can't be out every night with kids. So, some nights we enjoy our drinks and they enjoy their ice cream together in the patio, reflecting on the day gone by. If it's cold, you can enjoy a warm cocktail and the kids a small dessert or some warm milk in the living room together. I got to say that Hotel Pandora offers the perfect setting, with both privacy and great views!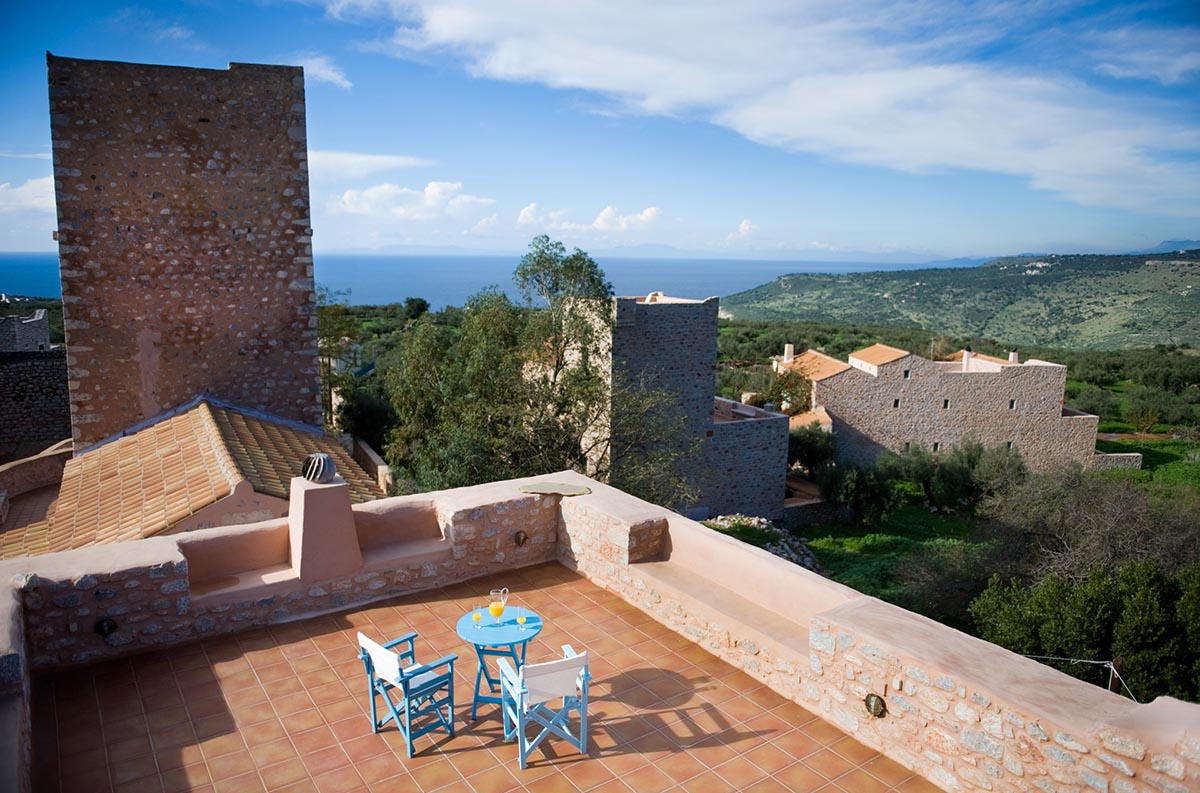 Cooking together
Even though at home, I do all the cooking, I do it alone and I love it, while traveling, I don't enjoy being kept away from my family because "I have to cook". So some days, we go grocery shopping together, decide what to eat together, divide the chores and be together as we all prepare dinner together. We also clean up afterwards together, making it a fun activity for everyone and not just a "punishment" chore for just one person. This way, cooking can turn into a hygge time, not just the dinner part. I loved cooking in this state-of-the-art kitchen at Arapakis Historic Castle with my family!
Ordering room service or delivery
Some days, we're just too tired to cook, go out to dinner or just put on clothes and head to the hotel's restaurant. We just want to put on our pj's and have food brought to us. Daphne's Club room service menu is amazing, Hotel Pandora and Historic Arapakis Castle, and Lithari Villas offer the perfect dining setting outside by the private pool. We enjoyed an easy meal we brought from a beach tavern at our pristine patio at Eumelia Farm, quietly as a family, and it was lovely.
A family BBQ
This can only be done in a house with a BBQ in the garden or a large fireplace.
We go to the market together and then share chores: daddy bakes, mommy prepares the salad, the kids set the table. While everything is getting ready, we enjoy some family time together in the patio/living room, having a drink/juice. Can't wait for this experience at brand new Aria Paros Residence!
Enjoying our private pool
Nothing says "privacy" during a family holiday like a private pool. Long summer noons go by without you noticing it, when we are all in the pool playing together, steps from our bedroom, having a cup of coffee/juice in the side, to enjoy together with the kids. See what I mean? Lithari Villas: