Now is a good time to book your summer 2023 in Greece with kids! We've found which of our favorite seaside hotels have offers now and we've discoverd some new ones, to help you pick the right one for your family:
Islands
Stay in the lovely beach town of Kamari on Santorini this Summer, at this baby/family friendly hotel with pool. Enjoy 15% off your bookings, as well as a complimentary transfer from & to the Airport, if you stay for 6 nights or more.
If you've watched the Netflix show "Maestro", you must have noticed the lovely island of Paxos and its amazing stone-built villas. Lithari Villas offer 10% off all your bookings with the code FAMILYHOTELS, bringing you one step closer to a dreamy summer vacation.
Spacious villa with 8 seperate bedrooms all with en-suite bathrooms some with private living areas, right in the heart of the wine-making region on the cycladic island of Paros. Tell your friends and family and spend an idyllic greek summer vacation with 15% off!

These two hotels are both conveniently located in the heart of the Old Town on lovely Skiathos island in the Aegean See. You won't have to drive while there, unless you really need to, as you'll be staying 2 minutes walk away from the marina where all the taxi boats leave from! They're both 15% off for bookings made untli the end of March and for stays during the whole summer period.
The Peloponnese
Amazing beach, out of this world cuisine on cool seaside taverns and a lovely garden stay with family houses promise a unique summer experience in Greece.
Farm stay with locally foraged meals, yoga platform, playground, bicycles and trikes, as well as spacious apartments overlooking the sea.
Τraditional stone-built boutique Hotel Pandora and the historic Arapakis Castle in Charia village in Mani offer family friendly accommodation few kilometres from the nearest beach and the must-visit Diros Cave.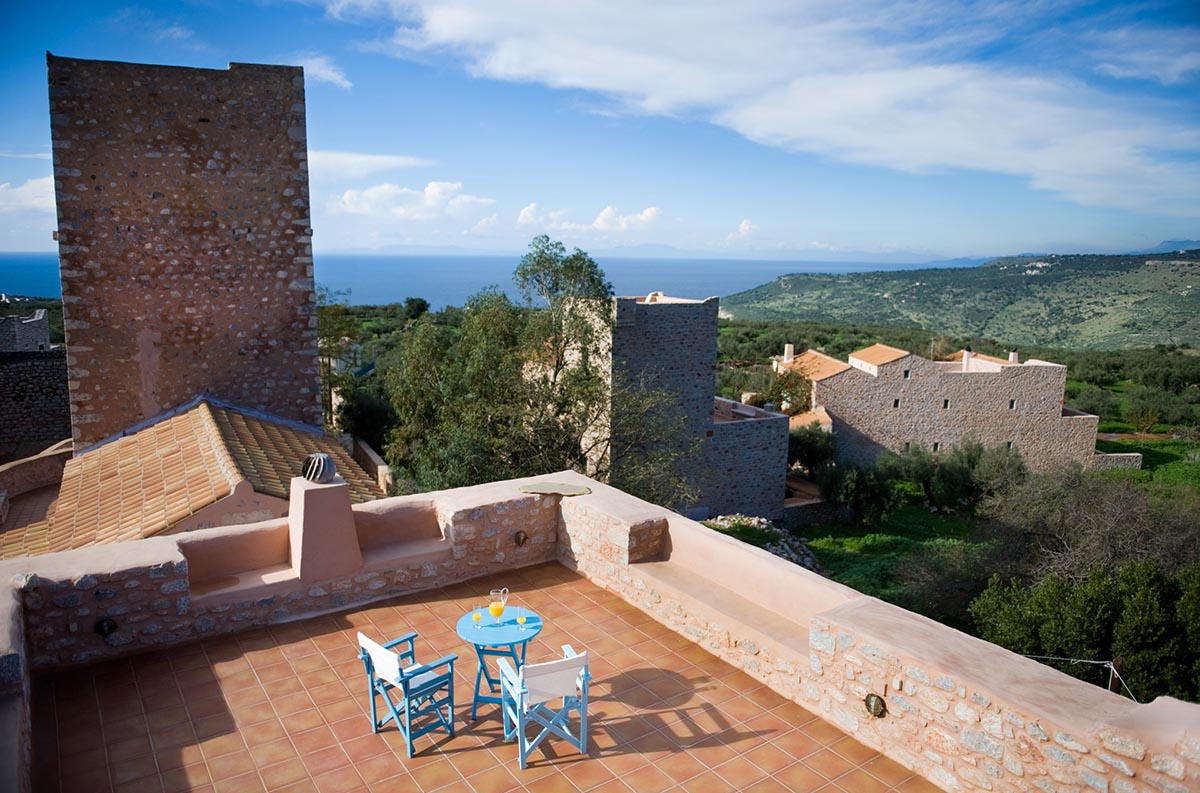 We always enjoy our stay at the spacious apartments of Daphne's. We love the sumptuous breakfast and the vegetarian meals offered all day. We mostly enjoy being a few steps from the beach and the forest, as well as the abundance of inside and outside toys available!

We loved our stay at this traditional, fully restored, old tower in the Old Town of Kardamyli, a lovely seaside town in the Peloponnese. And with 15% off all bookings, you can get to have this amazing accommodation experience with your family!
Within walking distance from Petreas Tower and right on the beach, this amazing villa with pool, breakfast, playground and garden toys is the ideal place to spend your summer with your family and friends. Take advantage of the 15% offer to stay longer 😉
This amazing seaside villa ideal for a family with 4 kids features a large garden with toys, outdoor movie theater, indoor playroom and lots of space for everyone to enjoy. It's 15% off and there's still availability.
Right on the beach, with an amazing pool and spacious, fully equipped 1-2 bedroom apartments, Cape Kitries is also within walking distance from fish taverns and shops. Spend a memorable summer exploring the Peloponnese, with 15% off your early bookings.
I hope this article inspires you to book you summer holiday in Greece with kids!